2022 Water Quality Inventory: Integrated Report (305(b)/303(d))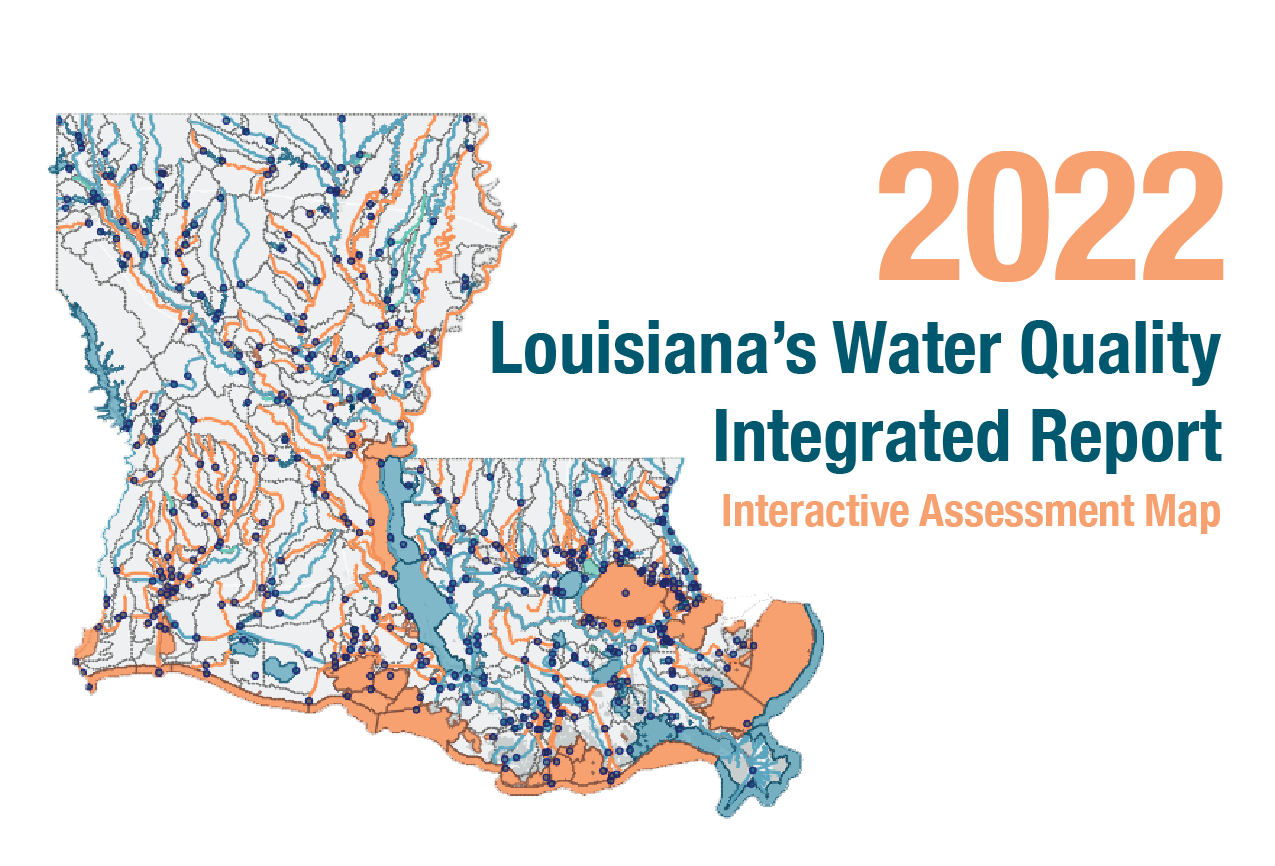 Full Text of 2022 Integrated Report - All 2022 IR documents have been updated based on corrections made after full approval by EPA of the 2022 IR on May 3, 2022. All corrections were public noticed between July 8, 2022 and August 11, 2022, with no comments received from the public or EPA. Therefore, all 2022 IR assessment are considered final and approved for all uses.
Appendix A: 2022 Water Quality Assessments for Louisiana (Corrected FINAL) (Excel document) (PDF document)
Appendix A: 2022 Integrated Report Basin Descriptions - Illustrates designated use support for primary contact recreation (swimming), secondary contact recreation (boating), and fish and wildlife propagation.
Appendix B: 2022 Category 1 Addendum - Appendix B contains water bodies and suspected causes of impairment that were formerly considered impaired in the 2018 Integrated Report. They are no longer considered impaired by Louisiana. More recent data or information was used to make this determination during development of the 2020 Integrated Report. Appendix B is used here as a tool to track changes to the Integrated Report over time.
Appendix C: Complete List of Suspected Causes of Impairment
Appendix D: Complete List of Suspected Sources of Impairment
Appendix E: Complete List of Louisiana's Ambient Surface Water Quality Network Sites
Appendix F: Public Comments on the 2022 Integrated Report and LDEQ's Response to Comments - Appendix F is a compilation of all comments received regarding the 2022 Integrated Report, along with LDEQ's response to those comments.
Appendix G: Louisiana's 2022 Section 303(d) List: (Excel document) (PDF document) - Appendix G represents a subset of Louisiana's 2022 Integrated Report (IR) and includes only those water body impairment combinations (WICs) reported as Categories 5, 5-Alt, and 5RC. As has been noted in the body of the IR text, WICs in Categories 5, 5-Alt, and 5RC of the IR assessments are the only WICs on Louisiana's 2022 303(d) List. Appendix G was developed only as an aid to the public and does not constitute Louisiana's 303(d) List. Every effort was made to maintain consistency between Appendix A Categories 5, 5-Alt, and 5RC WICs and Appendix G. However, in order to ensure the accuracy of the overall Integrated Report, only those WICs in Appendix A, Categories 5, 5-Alt, and 5RC, constitute the official 2022 303(d) List. Please see Appendix A for all other 2022 IR WICs.
Appendix H: USEPA's National Aquatic Resources Survey (NARS)