Mobile Air Monitoring Lab (MAML)
The Louisiana Department of Environmental Quality Mobile Air Monitoring Lab (MAML) is a self-contained mobile laboratory capable of real-time sampling and analysis. The vehicle, a 2006 Winnebago RV, has been equipped with a number of innovative technologies that enhances the Department's air monitoring resources.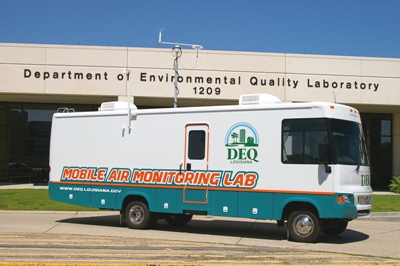 The MAML, which was paid for by Federal and State funds, is outfitted with the following:
Gas Chromatograph/Mass Spectrometer:
Capable of sampling for multiple organic compounds at low parts per billion levels. Provides the ability to tentatively identify unknown compounds. Capable of sampling from canisters or directly from the sample manifold.
Hydrogen Sulfide and VOC's: Capable of monitoring for hydrogen sulfide and volatile organic compounds (VOC's)
Meteorological: Capable of monitoring for wind speed, wind direction, temperature, barometric pressure and relative humidity.
The MAML will be deployed throughout the state on Special Monitoring Projects to provide instantaneous, onsite data directly relating to a multitude of air quality issues. The Department's first priority for the MAML is to provide a more proactive approach to improving Louisiana's Air Quality by ensuring compliance with our Ambient Air Standards and identifying areas of concern before any serious problems arise. Other Air Quality issues that the MAML will address include:
Air Monitoring Support and Emergency Response following accidents, natural disasters, etc.

Investigation of specific areas based on past and present air pollution complaints and concerns.

Air Monitoring studies to further investigate any exceedances of Louisiana or Federal Air Quality Standards measured by the statewide Ambient Monitoring Network.

Conduct other air quality investigations as ordered by the Department Secretary.